I almost didn't go to Scotland. I almost caved into my doubts "It's too far to drive, it will be too cold, I'll be on my own and might get lonely, it's dangerous, I don't want to leave my cosy home where I feel safe, have I completely lost the plot…"
Something inside me said "You need to do this" and so I did. Over the years I have learnt to listen to that voice inside me; my gut instinct and intuition. It has served me well.
I knew I needed to go to Scotland. To feel the wide open space and the wild of the Highlands running through my soul. For me, Scotland is the antidote to London life. Scotland, and specifically Glen Coe where I drove to, is my favourite place on the planet. The views are outrageous, you feel this power from the mountains towering over the A82 road coming up from the South. The deep valley was carved out centuries ago from glaciers and volcanoes. It's an amazing place to adventure and the wilderness reconnects me with who I am at my core. I wanted to feel that.
Sometimes you've just got to say "I hear you doubts and fears, thank you for protecting me, but I'm going to go for it anyway!" That's exactly what I did.
This may come as a bit of a surprise to you, but it wasn't being up in Scotland on my own or spending 3 nights off the grid climbing munros and sleeping in bothies that was my biggest concern, it was the drive there! I've only been driving for the last 3 years so a 1000 mile round trip felt a little bit intimidating being the longest drive I've done.
Luckily I adore my car – thank you Mini! – I loved having the flexibility of adventuring with a car as Scotland's weather can be so unpredictable so it was great to be able to pack whatever I thought I might need for hiking, running, sleeping in bothies and all my camera equipment. I asked friends for recommendations on podcasts and playlists and had Michelle Obama's new book 'Becoming' on audible – off I went!
Over the years my adventures in Scotland have taken me all over this epic and diverse part of the world. From scaling Ben Nevis on a variety of challenges and conditions, wild camping on the Shetland islands, adventuring in the remote Cairngorms in winter, the Isle of Skye and exploring the Outer Hebrides. If you haven't been to Scotland, you must go!
Glen Coe is a place I go back to over and over again. Each time it takes my breath away like it's the first time I've been there. Perhaps these photos can help me explain why.
Whilst there I did a sunrise hike up The Devil's Staircase and a sunset hike up The Pap of Glencoe.
I also spent 3 days hiking munros and sleeping in bothies with my friend Andy who runs Scot Mountain Holidays. Andy recently turned 50 and wants to climb 50 munros in his 50th year, but they have to be ones he hasn't climbed before. A munro is a Scottish mountain over 3000 feet. A bothy is a basic shelter found in remote parts of Scotland. There are over 100 of them; free and available to everyone to stay in whilst adventuring in the wilds! Find out more from the Mountain Bothy Association and buy The Bothy Bible!
We stayed in Kinbreak and A'Chuil bothies and did some pretty big days in the mountains. Inside a bothy you will find a fire place, space to set up your sleeping bag and sleep and a book filled with stories from the people who have stayed there before. They are amazing places to stay, you couldn't actually get any more remote and if you like waking up with the 360 degree views of the mountains, no wifi or phone reception and a river to brush your teeth in, you are in luck. There's no electricity, heating or beds but you will find a shovel to dig a hole for your trip to the forest in the morning. Maybe not everyone's cup of tea, but definitely an experience everyone will be dying to hear about in the office when you get back!
After 3 days out there I was happy but had my fair share of walking in the rain and desperate for a shower and a good sleep. I checked into the infamous Clachaig Inn for a few nights and slept like a baby for 10 hours! There's an extensive food menu there, great ale, big open fires and a legendary atmosphere. The staff are super friendly and have loads of info on local hikes and other activities to help you make the most of your trip.
Such an amazing trip and all made possible by my awesome adventure wagon – my Mini Countryman!
Very grateful for Scotland and this wild heart of mine that drives me to experience life at it's fullest. Go and live your adventure and check out Scotland!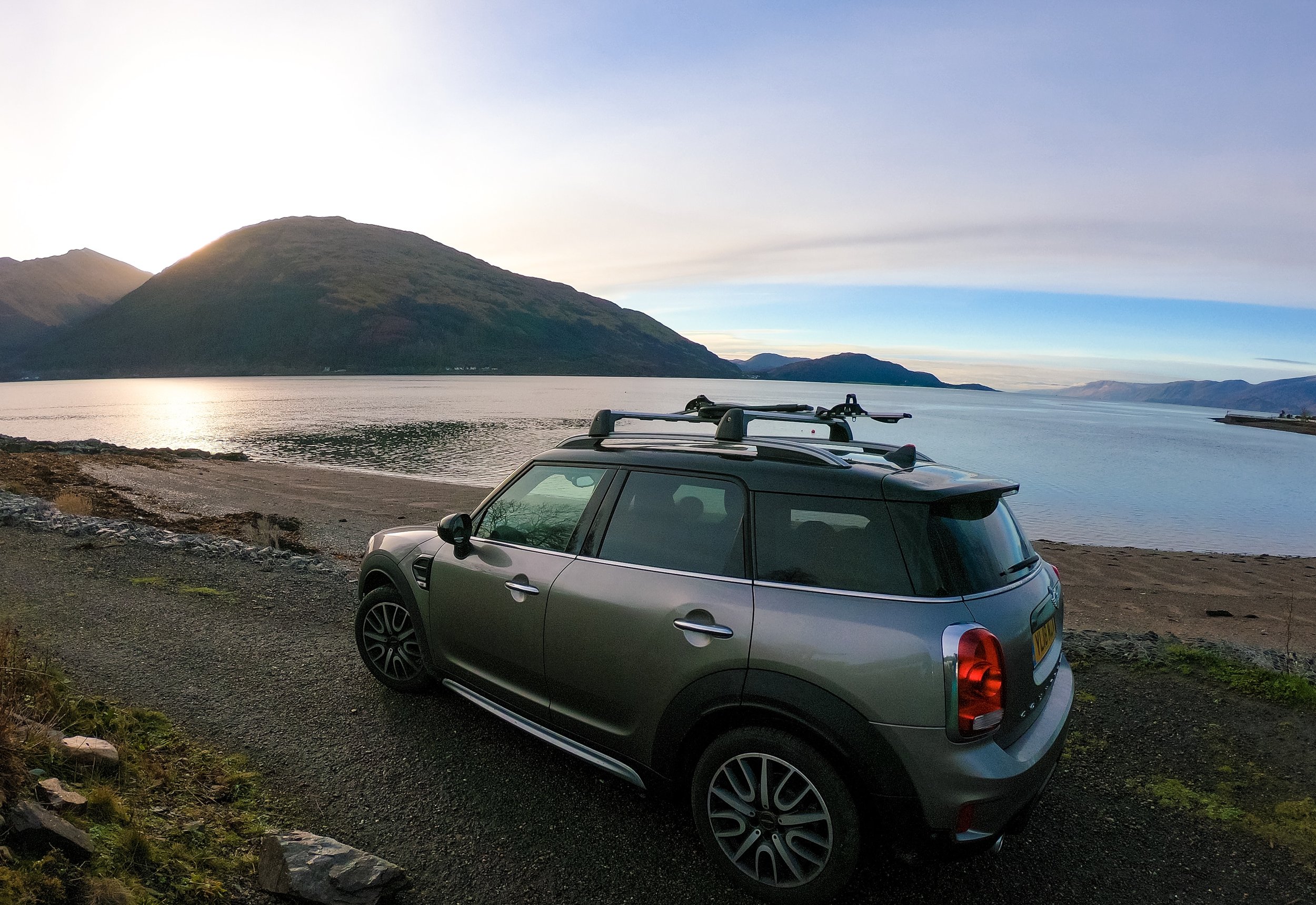 I'm an ambassador for Mini and have use of this amazing car for 6 months to explore the UK with!