We've been hurtling along this dirt road for half an hour and as far as the eye can see there's barren, volcanic land. It feels like we could be on the moon. We've taken this detour to visit Dettifoss, reputed to be Iceland's most powerful waterfall. I'm not convinced. I can't imagine there could be any waterfalls round here.
We park the car and follow the signs to the waterfall. Suddenly, I see it. A deep, wide canyon cutting right through the heart of the barren landscape with water surging through it. It takes my breath away.
I've always admired the force of water. The way it makes it's way from A to B carving a path and finding a way around, over, or through any obstacles. I often think about water when I'm pushing myself to the extreme and think about how I can be like it. How I can twist, turn, adapt and keep going to get from A to B regardless of what stands in my path.
As our days exploring Iceland blend from one in to the next, I realise that this is what Iceland is all about. The stark contrast between the barren and often desolate landscapes, and the rich natural forces of nature; the hot springs, bubbling mud pools, waterfalls, forests and mountains.
My brother, Luke, and I are on a week's road trip exploring East Iceland with Discover the World. Everyday is a different adventure with a different local guide oozing with enthusiasm to share their wisdom and love for this country.
Today we are climbing Iceland's highest stand alone mountain. At 1833m tall, Snaefell, an ancient volcano created during the Ice Age has been dormant for 10,000 years. As we approach with our guide Skuli from WildBoys.is, the entire landscape is covered in low hanging cloud masking the fact there's a mountain right in front of us.
Four hours later when we're back at the vehicle having covered the 12km to the summit and back, the cloud clears and we can see the mountain in all it's glory.
I was not prepared for the climb today. I knew there was going to be snow but I incorrectly assumed it might just be covering the summit. How wrong I was!
The snow starts almost immediately as the ground begins to rise up from the plateau. It gets steeper and deeper. I find it extremely atmospheric. We climb through dense cloud with the sun trying to break through. We zig-zag up snowy slopes and over jagged rocks. We hit the summit ridge and go up and up. Finally we can see the summit and we're there.
The cloud clears for a few brief moments giving us a glimpse of the view below. On a good day you can see half of Iceland from here. It's well worth the climb. I'm so proud of my brother for smashing through the challenging conditions and couldn't be happier to climb this mountain with him.
I look at Luke and realise we need to go down. We eat our sandwiches with haste and start descending. Our feet are soaked through from the snow and now throbbing from the cold. "Keep wiggling them", I urge him. "I know a short cut" says Skuli.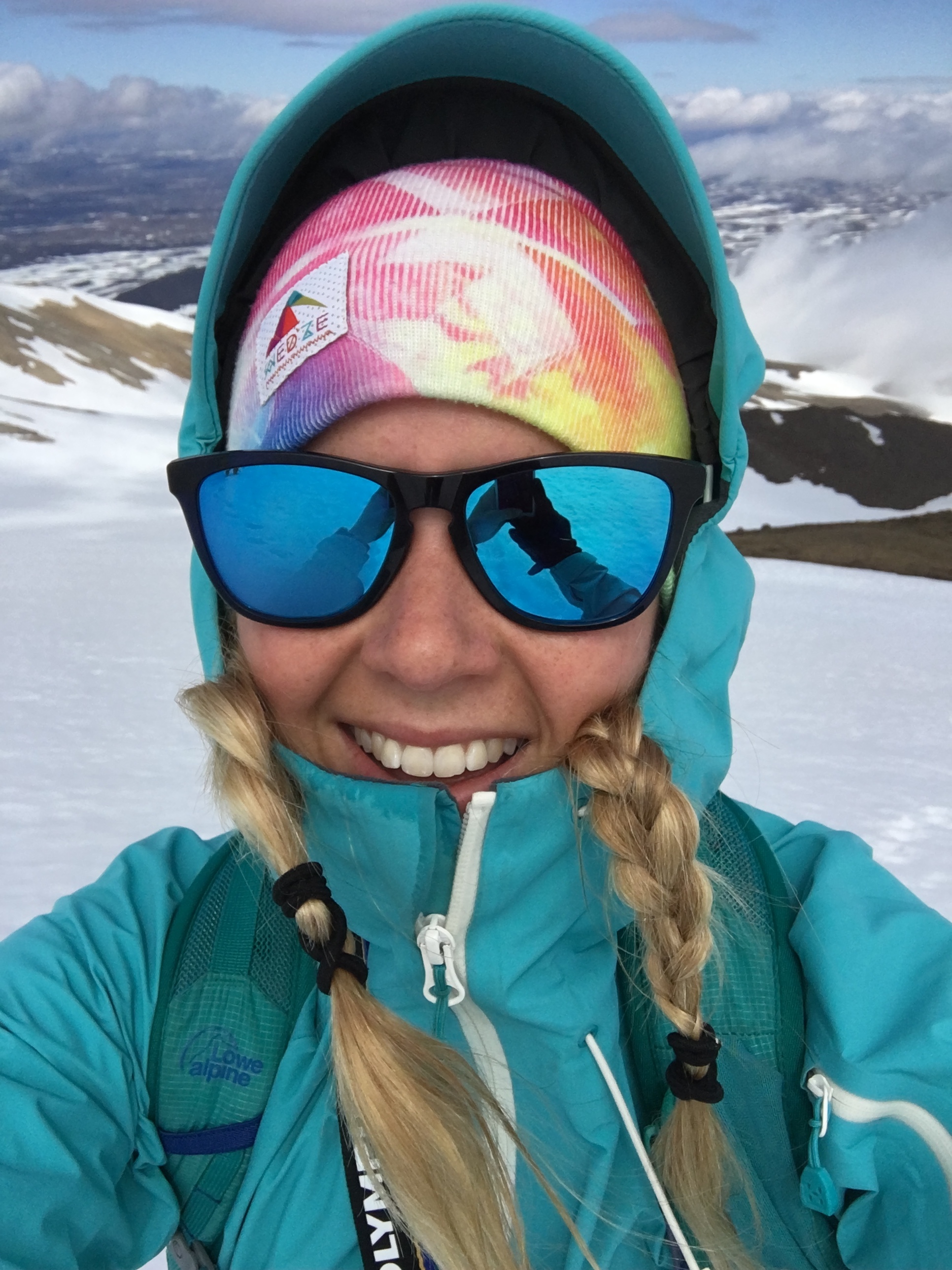 Here's the film I made from our day in the mountains with WildBoys!
We end the day bathing in hot springs at Laugarfell which feels absolutely divine. At the backdrop of the horizon stands Snaefell, basking in sunlight. A part of me would love to have been on the summit when the weather was this good, but I remind myself that's what I love about the mountains. The challenge of being at the mercy of the mountain whether it decides to unleash it's wrath or glory on you.
Discover The World are launching a new flight in July from London Gatwick to Egilsstadir in the East of Iceland between 9th July and 20th August. Currently the East is only accessible by two flights and a day driving, this flight will provide direct access to all the East has to offer. My favourite part so far is definitely climbing Snaefell and the hot springs! Stay tuned for what's next!