"Are you ready to feel like James Bond?" I asked Alexis as we climbed on our snow mobile. It was 7pm as we headed off into the wilderness for our adventure in Swedish Lapland with Discover The World.
After two hours of driving, we stopped off at a hut in the woods to eat dinner. "When do you ever get to do something like this?" I asked him later that evening as we were staring up at the sky hoping for a glimpse of the Northern Lights. "I know, I feel so incredibly lucky to be here, this really has been the trip of a lifetime."
Ice Flight
From the moment we stepped off the plane, we knew the next three days were going to be magical. The three hour 'Ice Flight' operated exclusively by Discover The World from London Heathrow to Kiruna, was the first stage in our journey to Swedish Lapland and the Ice Hotel.
Our first night involved 'sleeping on ice'. There is a tutorial to show you how to do it, but we were too excited exploring the hotel and checking out all the suites to go. The place is incredible, I couldn't contain my child-like excitement and desire to explore it all!
Sleeping on Ice
Every year hundreds of artists from all over the world submit their designs in the hope they might be selected for one of the 55 suites. They build the hotel in two weeks with ice harvested from the Torne River which then melts back into the river each spring. Over the 27 years the Ice Hotel has been in business, no two rooms have ever been the same. It's -10C in the hotel so sleeping on ice can feel a bit extreme but the sleeping bags they give you are pretty cosy. I hope by reading this blog, you'll get a sense of how amazing it is there, if you ever get the chance to visit, do it.
On our first evening as we sat down to a delicious dinner of moose, reindeer, arctic shard and an array of deserts, we talked about how today was a day of firsts and ticking off bucket list goals. First time in Sweden, eating reindeer, being in the Arctic Circle, seeing the Northern Lights, and soon to be, sleeping on ice.
Cross Country Skiing
The following day was Alexis's Birthday and we vowed to make it the best one yet. We were woken up with warm lingonberry juice before dashing to the dressing room and getting ready for our first activity; cross country skiing.
We skied across the frozen river and into the forest where there was a fire waiting to warm us up. I kept stopping to take pictures, I couldn't believe we had just skied across a frozen river!
In the afternoon we experienced a traditional Swedish sauna, involving taking an 'icy plunge'. Cannot describe how strange it was lowering into a hole cut in the ice and what felt like the coldest water on earth!
Wilderness Dinner
Next up was the wilderness dinner. Barely able to contain our excitement for the evening ahead, we drove out into the forest where we found a wooden hut, lit a fire and sat in a circle to enjoy wine and yet another delicious dinner. Between courses we went outside and lay down on reindeer skins on a frozen lake to look for the Northern Lights. It had been snowing and overcast all day so there was no chance of seeing them, but that didn't detract from the magic and wonderment of the evening.
After a night in the 'warm accommodation' (not sleeping on ice), we woke up wondering how this trip could possibly get any better. Today had plans to show us just how!
Dog Sleds and Snow Mobiles
Four of us loaded onto a sled pulled by 16 dogs. They absolutely melted my heart with their blue eyes and different personalities. It felt pretty cool to be so low to the ground as we travelled through this vast, frozen landscape. What an experience! I feel like I could stare at trees covered in snow all day long, simply look at them, breathe and think. It's enough.
That evening was our James Bond snow mobile tour, which we felt was the pièce de résistance. That was until we had our surprise adventure on our final morning.
Sunrise Ski in Minus 20C
At 8am we were met in the hotel lobby by Steffan saying "let's get your skis, I'm taking you to see the best sunrise in the world. Oh and it's -20C outside, do you have gloves?"
It had been overcast for the last two days and looked to be the same today, so I was intrigued as to where he was taking us!
We skied cross country through a stunning forest where I fell in love with the peace and simplicity of the trees once again. We gained height heading for the top of the mountain and when it became too steep, took the skis off and hiked through thigh deep powder.
I turned around and the view took my breath away. We could see the sunrise over a cloud inversion covering the entire frozen river, Ice Hotel and all the places we'd explored by dog sled, skis and snow mobile the last few days. Our hair was frozen and it felt like being in Narnia.
We sat at the top of the mountain admiring this little slice of heaven we had found ourselves in. Steffan made a fire and fed us warm coffee and pine tea. I don't drink coffee so he pulled some leaves off a trees and I drank them in hot water instead. Apparently it's full of Vitamin C, love it!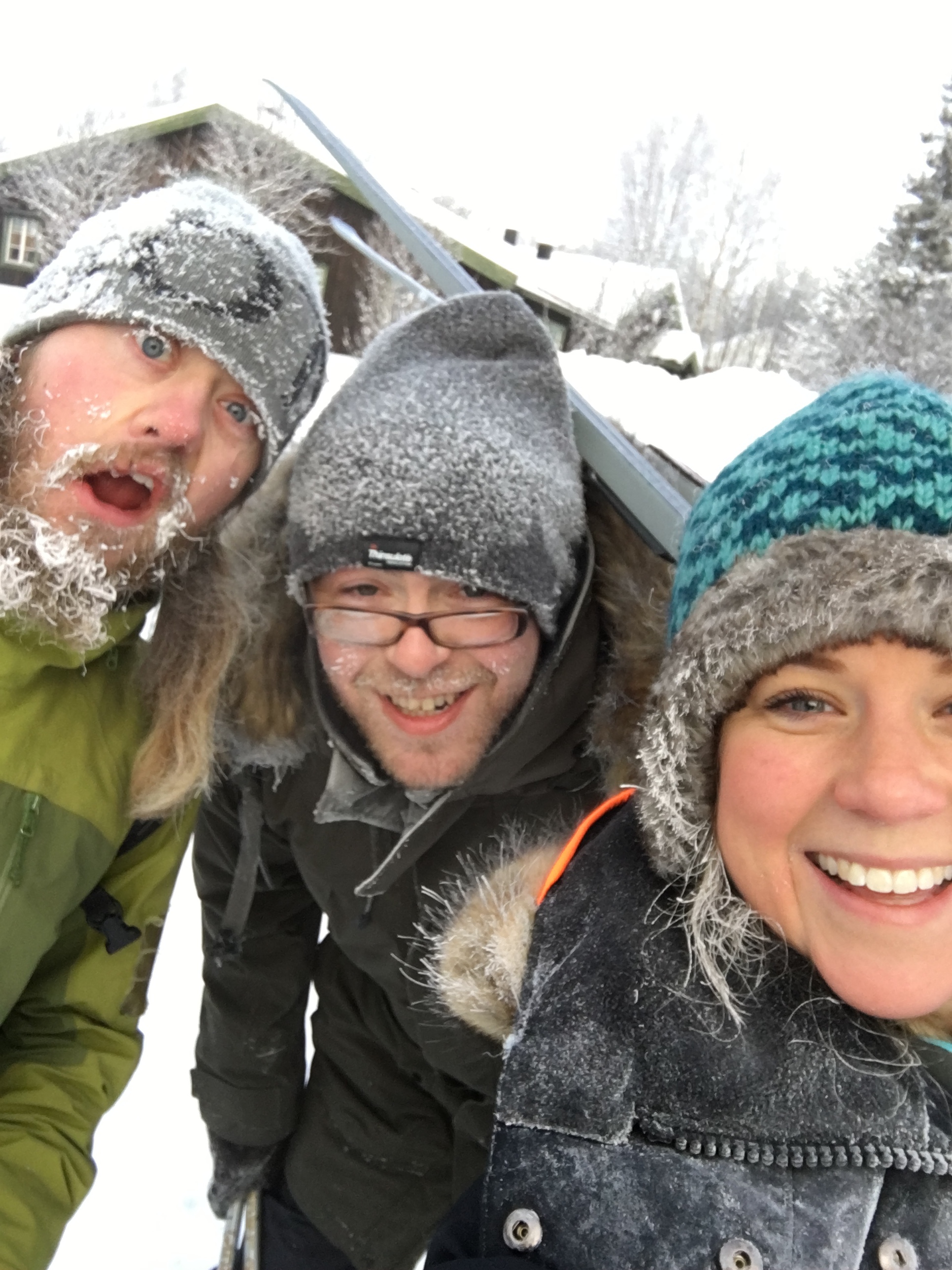 Discover The World
As we boarded the plane back to London, we found ourselves talking about the trip as though we'd been there for a whole week. It was just three nights. Three absolutely incredible, magical and unforgettable nights and days.
Here's my wrap up video, filmed on GoPro Hero5 :
The Ice Hotel, the locals and staff, the scenery, the adventures on offer... It really is the trip of a lifetime, I hope you get the chance to experience it for yourself.
I travelled with Discover The World, a family run company that create tailor made trips all over the world. I also travelled to Iceland with them last year which you can read about here and here. There are a wide variety of activities on offer at the Ice Hotel with DTW and they will absolutely ensure you have the best trip possible.
What To Wear
It's really cold there so you need to take lots of layers and the kind of clothes you would wear for skiing. I had thermal base layers, thick socks, thick mountain gloves, a buff, and the warmest hat I own. My absolute lifesaver was the Evolution Arctic Parka and Alexis wore the Loska Primaloft Parka both from Musto. Without these I think more than my hair would have frozen!
The Ice Hotel also provide boots, mittens, a balaclava, sleeping bag for sleeping on ice and an ice suit which you can wear for all activities. It's a definite good start but I would strongly advise taking another jacket and layers to keep warm.
As ever, THANK YOU for reading!
Connect with on your fave social media channel and stay in touch, I love hearing your questions and comments. Click below!
Check out my Facebook Live tour to see how unique it is: